Name: cut resistant sleeve
Type: with thumb holes
Color: grey, black, white or customized
Liner material: HPPE
Knitted type: 13 gauge
Size:customized
Logo:customized
Packing: 1 pair/ bag, 25 dozens/carton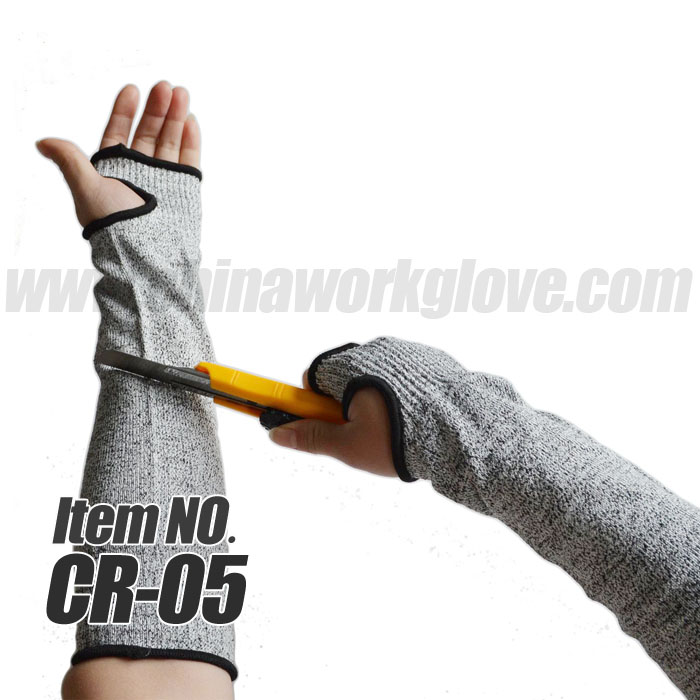 Properity:
Cut-proof sleeve is made of top-quality Dyneema and Kevlar material entirely, these sleeves are very useful and usually used in the outdoor riding process. It can prevent a certain degree of damage effectively, and always protect your safety with bringing it when do landscaping work. All of these high-performance anti-cutting effects are generated because of double-layer elastic fabric, which can be easily placed on your arm to provide a full range of protective properties. Do not think that the using of double-layer materials will lack breathability, in contrast, the breathability of cut-resistant sleeve is outstanding! Whether you want to protect yourself from damage when doing gardening, installing appliances or just to do your thing, this cut-proof sleeve that reach ANSI level 4 can protect your arm or forearm from cuts.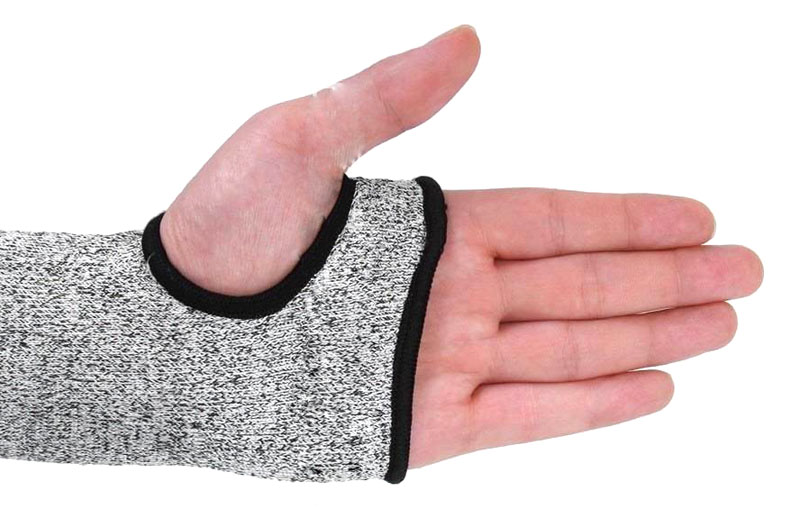 Single-layer cut resistant sleeve is 35 cm (customizable) with using of PE, which provides excellent cut-resistant performance, it is flexibility and comfort. The sleeve protect forearm from light burn and high temperatures. The biggest advantage of anti-cut sleeve lies in blade is difficult to cut it. Noted that it is difficult to scratch, but not mean it cannot be scratched. The anti-cut sleeve only play a certain role in delaying buffer, to protect and reduce damage of sharp edge of opponent to hands & arms within a certain range, but it cannot be considered that the anti-cut sleeve can be completely cut-proof. HPPE cut-resistant sleeve can reach 5 level of European standard, the default color is gray, optional size and can be customized according to customer requirements.The material of anti-cut sleeve is HPPE (high-strength polyethylene) + nylon + spandex + high-strength polyester, it is made of cut-proof fiber with thumb buckle. Cut-resistant sleeve can be used alone or as a protective liner for other sleeves. It has excellent wear resistance and cut resistance, which can increase protection to arm.Anti-cut sleeve protects forearm from heat, high temperature and cutting.HPPE fiber provides better sensitivity and cut protection while keeping hands cool and comfortable. Dyneema/Kevlar sleeve is cool and comfortable to wear, non-disposable sleeve for easy cleaning.

Are you still hesitating between cut-proof sleeve and other outdoor gears? In addition to advantages that mentioned above, its superior grip and comfort can be suitable for different skilled work of arm. It is washable by machine, easy to clean. Cut-resistant sleeve is suitable for a variety of different work, such as cutting, peeling, woodworking and kitchen work.
Application:
Durable goods, automotive industry, metal stamping, glass & porcelain industry,
steel sheet finishing, mechanical manufacturing, hardware assembly, high cutting risk work.