Anti-cutting gloves
Source:未知Author:Gloves Addtime:2019-04-17 10:19:52 Click:
Anti-cutting glove is one kind of metal glove. Wire glove, made of countless small rings. Its role is to protect hands from being cut during the operation of cutting machine.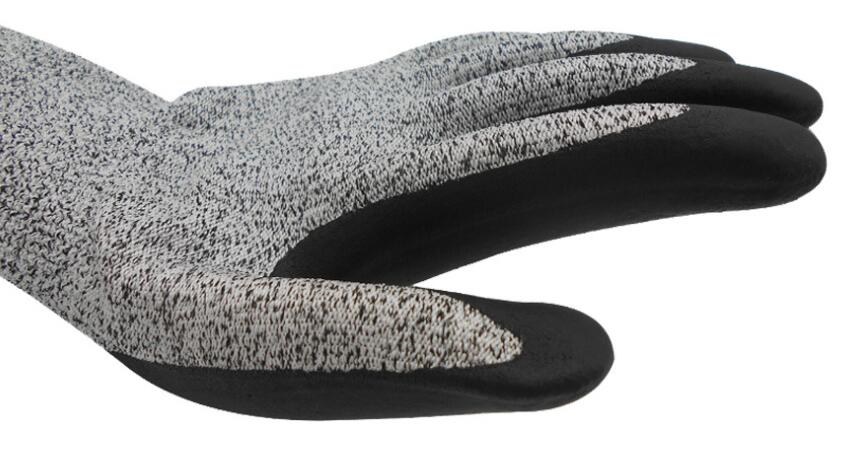 With the vigorous development of industrial production all over the world, people' s awareness of working environment and protection of safety & health has increased significantly. Among of them, hands protection is an important part. Therefore, it is important to choose high-performance gloves in different working environments,. There are many varieties of anti-cutting gloves on the market, grade parameters are different from each other, which is difficult for users to choose, it is more common to replace
anti-cutting gloves
with ordinary gloves or multi-layer yarn gloves, not to mention the selection of suitable cut resistant gloves for works. Anti-cutting glove is the ultimate risk-controlling measure to protect hands. In cities with relatively developed industries, there have heavy metal, high-rise building, various processing & automobile manufacturing and other industries. People who engaged in extreme mechanical operations, high-risk cutting work, steel plate finishing and metal processing should wear cut-resistant gloves, which not only improve production efficiency obviously, but also reduce the risk during operation.
Regarding cut-proof rating, the more common cut-proof specifications are in accordance with EU BS EN 388 of British (equivalent to the standard of AS/NZS2161.3 in Australian/New Zealand). China' s GB24541-2009 "Hand Protection Machinery Hazard Protective Gloves", which was implemented on September 1st, 2010, also covers four types of mechanical risks, namely wear, cut, tear and stab. Gloves that meet specifications must be marked with the universal mark of Blacksmith, Hammer and Shield. Corresponding to four mechanical performance tests: wear resistance grade (0-4), cut resistance grade (0-5), tear resistance grade (0-4), puncture resistance grade (0-4).
The first one is metal glove, which is made up of countless small rings. Its role is to protect hands from being cut during the using of cutting machinery. According to the needs of operation, this anti-cutting gloves can be divided into three-finger and five-finger protection, mainly used in meat processing, extreme mechanical strength work and high cutting risk work. People who manufacture steel plates and equipment tools can wear this glove to protect their hands and wrists, operate safety and improve processing efficiency.
The second is BLADE X5 TM yarn, with high-strength polyethylene & glass fiber material as core and new fiber as outer layer of yarn, this material is more resistant to cutting, high-strength & high-modulus polyethylene fiber (HPPE) also is one fiber material with excellent cut resistance. Lightweight, comfortable to use and processed with wrapping steel wire, the standard of anti-cutting products far exceeds CE5. This kind of anti-cutting glove without coating on the back, which is breathable, comfortable, provide ideal flame retardant and cutting protection. It is mainly used in automotive parts assembly, product packaging, electronic & electrical assembly, and light assembly work.
The third is anti-cutting glove that made of Kevlar. The primary color of fiber is yellow, it is strong, light and flexible. BLADE XTM, with new fiber as the outer layer of yarn, not easy to be shed and not change color even is exposed to the light, has excellent wear resistance and cutting resistance, its strength is 5 times that of the same quality steel, it is comfortable to wear and easy to clean. Its outstanding characteristics lie in super wear resistance, good elasticity, easy to take off, comfortable and breathable, but not affect the movement of hands` joints, it can prevent the damage on palms & fingers caused by knives and sharps effectively to suitable for more industries and environments. At the same time, it also is increased the functionality of
work glove
, such as anti-slip, tear-proof, anti-puncture function in oily environment,.
In addition, a large number of yarn gloves on the market do not have the function of cutting prevention, and can only play a basic protective role in hands, so it is especially important to select suitable gloves for different working environments
In conclusion, the qualified steel wire gloves should have the following characteristics:
1, It is composed of high quality stainless steel and nylon belt.
2, It has excellent anti-wear, anti-cutting, anti-poke protection, comfortable to wear and easy to clean.
3, A single glove can be used interchangeably by two hands through adjust the strip.
4, Safe and hygienic, easy to be cleaned.
5. The protective degree reaches 5 level.
6, Cuff has a choice of Velcro or button, easy to detach